Did you know we are serving free meals daily for children from 9am-1pm? They get an entree (made by actual chefs), fruit and milk.


We plan to continue this until August 31 and maybe later. And we know food access and affordability is important to you and guess what…it's important to us, too. So please remember we accept SNAP and Double Bucks plus much of our food is Colorado homegrown, fresh from farms and ranches.
Treat yourself and your family to meat from Sangria Ranch, whole chickens (frozen or live) from Marion's Ranch, eggs from Deanne's Farm as well as custom tea blends and locally roasted coffee. You'll always find lots of veggies and fruit as well. Hope to see you soon and we are open Tuesdays-Sundays from 11am-7pm, 5045 W 1st Ave.
As of right now, our 1212 Mariposa building is closed to keep clients and staff safe. However, we are still serving our community! Give us a call at 303.629.0636 if you need food assistance.
Wednesdays: delivery ONLY to the following zip codes – 80202, 03, 04, 05, 06, 09, 11, 12, 14, 18, 19 and 23. NO drive up or walk up will be available.


Saturdays: Deliveries to the following zip codes – 80202, 03, 04, 05, 06, 09, 11, 12, 14, 18, 19 and 23. AS WELL AS drive up and walk up from 9:00 am to 1:00 pm, with no restrictions.
If you are in need of a food donation please contact the Denver Inner City Parish at least 24 hours in advance.
Servicios de La Raza will be delivering free food and toiletries to the homes of older individuals and undocumented individuals and families in Denver, Westwood, Commerce City, Montebello, and Globeville, by appointment, on Mondays, Wednesdays, and Fridays.


Call us at 303-953-5903 to make an appointment and let us know about any dietary restrictions. Don't forget to take the 2020 Census survey, which helps to determine how funds are allocated to SNAP and other food programs, 3131 W 14th Ave.
We are still offering our food pantry on Wednesdays at 2pm and Saturdays at 11am, 1260 Decatur St.
But rather than having our community members enter the Kitchen to 'shop' for their groceries, our staff + volunteers are pre-bagging groceries to be distributed. We are providing each individual with 5-7 bags of produce, meat, dairy, dry goods, bread, prepared foods, milk, juice, toiletries and hot prepared meals.
Re:Vision's no-cost grocery distribution is every Wednesday 3-5 pm.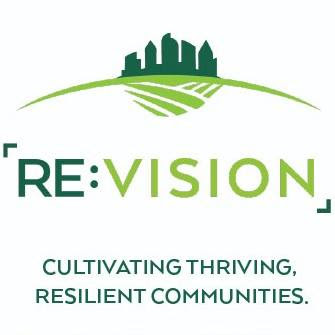 Registration will close at noon Wednesdays,3800 Morrison Rd. If you are sick, or do not have access to a car, you can request delivery, but please register before noon Tuesday. Please register for this program here. Call:(720) 465-9605
Until further notice VOA Senior Hot Lunches are not available at the Westwood Community Center. Meal replacements boxes will be available each Wednesday by reservation. The reservation must be made 48 hours in advance.  Each box contains five frozen meals and will be available for pick-up or delivery every Wednesday.  – The SWIC Food Bank services are scheduled for every other Tuesday. Please call in advance if you are new to the service. (303) 934-2181, 1000 S Lowell Blvd.


Upcoming Food Bank Services: Friday, May 22nd.
The May 22nd Food Bank will be scheduled for Memorial Day Weekend
No Food Bank will be is scheduled on Tuesday, May 26thPlease call (303) 934-2181
The Denver Indian Center FOOD BANK will be open each Friday in the Denver Indian Center parking lot at 4407 Morrison Road from 10:00 am – 2:00 pm. Food will be distributed on a first come first served basis while supplies last.


We will be observing Social Distancing protocol and ask that you remain in your vehicle and a volunteer will bring food to your vehicle. If you are a Senior, 60 years of age or older, or unable to come to the Center, please call 303-936-2688 and leave a message with your name, address, telephone number and tribal affiliation.
Help is just a phone call away for families, older adults and other individuals who are seeking food assistance anywhere in Colorado.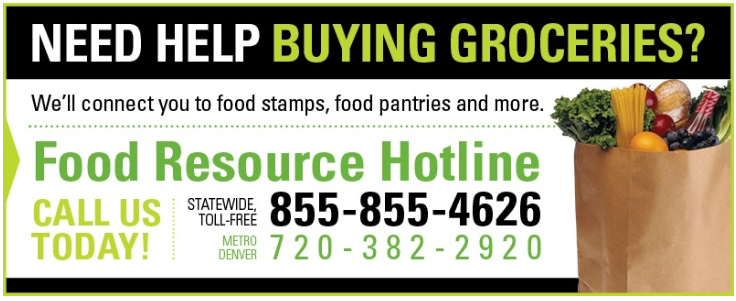 The statewide Food Resource Hotline is a bilingual toll-free number that connects Coloradans to needed food and nutrition resources. It is a free "one-stop" resource that offers geographically-based referrals to both public and private food assistance programs across the state. Call: 1-855-855-4626 Metro Area 720-382-2920
Information Courtesy of: